Posted by Michelle founder of the dog boutique, Paws pet boutique in Annapolis, MD on 31st Dec 2017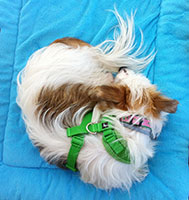 With my terrier mix Gracie curled on my lap, 2017 is coming to a close. We look back on the year with gratitude. Gratitude for the truly exceptional people and pets we have an opportunity to come in contact with on a regular basis at Paws pet boutique. Several heart-warming experiences stand out this year that we wanted to share with you.
BIG HEARTS
Helping People...
Many of you are part of our 'Paws Point Program' or 'Thank You Program' that gives you a point for every dollar you spend and a $5 coupon every time your points reach 100 points. During the holiday season we had several instances where a $5 coupon printed for the client and instead of using it, they passed it on. One client gave it to the client on line behind her and another gentleman gave the coupons back to us and asked us to give it to someone who could really use his 2 $5 coupons. What a simple gesture that makes a big statement.
THE DIFFERENCE
Helping Animals...
Raising awareness and funds for animal charities has always been an integral part of our philosophy at Paws. We are grateful to be in a position that allowed us to raise over a hundred thousand dollars since the start of Paws. What is particularly special to us though, is the fact that $21,350 has been donated to Ben's Memorial Fund over the last 2 years!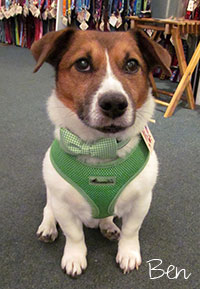 For those of you not familiar with Ben's Fund, it was established in honor of our beloved rescue dog, Benjamin, with Animal Legal Defense Fund. Donations are used to fight puppy mills and support animal cruelty prosecution. Our shop dog Ben touched many and will continue to do so thanks to dear friends who created the Fund upon his unexpected passing. The individuals responsible for creating this Fund...we met through Paws. We are grateful Red Leash Pet Photography, Dogwood Acres Pet Retreat, Tracy Menz Designs and Southwest Airlines regularly designate Ben's charity as the beneficiary of their events/giving - and to our Paws community who continues to keep his legacy alive by supporting this special cause.
Yes, our pet boutique has lots of unique gifts for dogs, cats and their humans. And yes, we love helping clients find that perfect gift to give that will put a smile on someone's face and/or make a tail wag or kitty purr. But it's the pets and people we have an opportunity to meet and interact who truly are the gifts. We are humbled to be part of our Paws pet boutique community that has grown over the last 18 years. So thank YOU! We are grateful for your support.
Wishing you a new year filled with goodness and pet kisses.