Posted by Michelle, Founder of Paws pet boutique on 11th Feb 2020
Life is too short not to have fun with your dog! If you're like us, you delight in taking your fur kids with you wherever possible. There's no doubt dogs are part of the lifestyle in Annapolis, Maryland, where Paws pet boutique was established in 1999. So after recently relocating to Naples, Florida, we immediately were on the hunt for things to do and places to go that truly welcome dogs.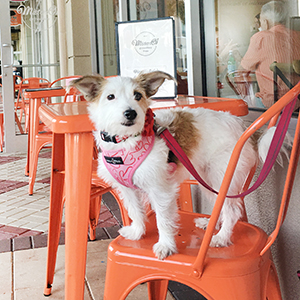 While we love bringing the pet community together at our dog-friendly Yappy Hours and other fun pet-friendly events at our Naples dog boutique, we thought it would be helpful to share local tips on other dog-friendly spots in Naples. We hope this is the first of many Paws Blogs to come that highlight how Naples offers a dog-friendly lifestyle. We love dining with dogs so we're starting off with 6 dog-friendly restaurants in Naples that we personally enjoyed with our pup!
Fit & Fuel Cafe and Tap House in the Pavilion Plaza
This casual spot offers a nice size outdoor patio with some shaded tables. The wait staff has always been very welcoming to our pets and usually asks if they can bring a water bowl out to the table. The menu offers a variety of fresh, healthy options for breakfast, lunch and dinner - along with coffees, smoothies and an awesome selection of beers.
Mister O1 Extraordinary Pizza in Shoppes at Vanderbilt
Bright orange table and chairs welcome you and your dog to their outdoor dining area in front. You'll love this modern pizzeria that features star-shaped pizzas with ricotta cheese stuffed points to vegan cheese pizzas to chocolate dessert pizza (so yummy!). If pizza isn't your thing, their salads are fresh and filling. Fortunately Paws is located right next door, so you can pick up a pizza slice dog toy or pizza dog bakery treat after lunch or dinner! Parking is easy.
Naples Flatbread in Mercato
We love the owners and staff here. From outdoor tables, comfy couches to friendly wait staff, your dog will feel welcomed. Their menu offers a variety of options so everyone will be happy with their meal. If you're feeling bubbly, check out Thursday's Clicquot on the Clock or other specials throughout the week. Sure to be one of your favorite spots!
D'Amico & Sons in Neapolitan Plaza
Enjoy dining al fresco on their spacious outdoor patio, including a large covered area if it's raining. (Yes, we've eaten here in the pouring rain with our pups!) White lights create a festive atmosphere on the portion of their open-air patio in front. This Italian restaurant offers wood-oven pizza, entrees, salads and desserts. Always a welcoming place to enjoy dining with your dog. We've even gathered for a dog birthday here!
The Village Pub in Venetian Village
Located on Venetian Bay, their extensive waterfront outdoor patio offers select tables to enjoy dining with your pup by your side. A dolphin or two may just make an appearance to keep your dog's attention, as well as the fish that swim in their underwater spotlights at night. Great pub fare including salads, nachos and burgers. Their veggie burgers are delish and you can't beat the view. Definitely on our go-to list!
Barbatella Italian Restaurant on Third Street in Old Naples
Dine with your dog in their beautifully lit outdoor courtyard featuring a lovely water fountain. Located right on Third Street, so you can enjoy the sights and sounds of the town on their relaxing patio. This spirited Italian Trattoria offers a delicious menu, including homemade Italian ices and gelatos.
Our Naples list wouldn't be complete without sharing a few tips for dining with your dog. Remember to head out the door with pick-up bags - it's the worst to be caught empty handed! Don't forget a collapsible pet bowl or water bottle/bowl to keep water handy. To give your pup a designated spot when dining out, we recommend bringing a familiar comfy pet blanket or pad to place by or under the table. Set a great example and always be respectful of other diners!
So that's 6 dog-friendly Naples restaurants to start off our loving life with dogs list. Another 6 spots coming soon. If you're visiting Naples, Florida, or are local to the area, please let us know if you find a special place that welcomes dogs. We're all ears! Shoot us an email at earsup@pawspetboutique.com, tag us @pawspetboutique on Instagram or Facebook - or stop by our Naples dog boutique WITH your pup. We'd love to meet them. Oh and if you're heading to Annapolis, Maryland...take your dog. You'll love the town! (Click here for dog-friendly Annapolis tips.)