Posted by Michelle founder of the dog boutique, Paws pet boutique in Annapolis, MD and her dog Gracie on 15th Jan 2017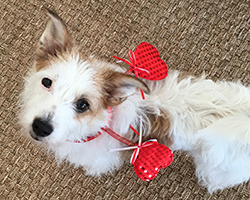 So first, for those who may not be aware of the term "Gotcha Day", it refers to the day a new member is added or adopted into a family. While no day should be taken for granted, Gotcha Days and birthdays are definitely worthy of a special celebration!
January 15, 2016 Gracie joined our family and entered the Paws pet boutique pack. She gained 2 Jack Russell brothers and a feline as siblings in addition to 2 humans. Today is the 1st Anniversary of her Gotcha Day! So what's a girl to do? If Gracie could talk or type, we're pretty sure these would be her tips for a successful Gotcha celebration day in her words...
DON'T SLEEP IN...While I don't like to get up too, too early, I find 7 AM is a good time to start licking your human if they aren't rustling yet. First a quick trip outside and then breakfast is served.
GET MOVING...Next up, my favorite, a walk! Make sure you have your harness on so you don't choke and you're securely attached to your human with a leash. Ahhh, the sights and sounds. Take it all in and help your human to do the same. They are often preoccupied and miss seizing the moments. They need your help. Don't forget to put your nose up and take deep breaths.
RELAX...Find a sunny or cozy spot and catch a nap to let your human go do what they do. Dream of running through fields or rolling in something that stays with you...whatever makes you happy.
GREETINGS...When you see your human, get excited and make them feel like they are everything to you. It's not hard to do, because they are everything! Love runs deep.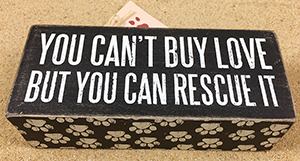 SPECIAL OUTING... Do something different on special days. In my mind, this does not include a bath or a trip to the vet. I like to head downtown to check out different smells and meet new dogs. If you're in Annapolis you should stop by Paws pet boutique. They love celebrating birthdays and gotcha days with fur kids. They'll likely take your photo and post it on their Facebook and Instagram pages to share a smile! I like to pick up my favorite treats - a fresh bag of sweet potato fries -- and a new toy. I love to play with my toys and when the feeling comes over me, zoom around the house with them! If it's nice outside, sitting with your humans at an outside cafe for lunch or dinner is always fun for me. Make the day special in your own way. For me just being with my people makes me happy. I don't ask for much.
TAIL END... To wrap up my day, I like to enjoy my dinner topped with some special treats in my slow-feel bowl. I didn't like this bowl at first but I'm use to it now. I feel better when I eat slower, so it's all good. Next, another nice walk and some playtime would be perfect. To close my day, I like to snuggle in with my people and dream of tomorrow. I dream that lots of other animals find their way into happy homes. I'm grateful that Chesapeake Cats & Dogs helped me find my forever family.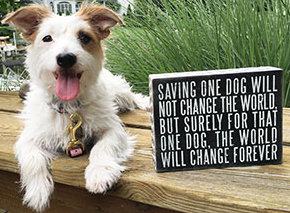 In closing, we'd like to encourage you to consider adopting a loving companion animal. They don't ask for too much and they give back ten-fold. ASPCA estimates approximately 2.7 million dogs and cats are euthanized each year, while 2.7 million shelter animals (1.4 million dogs and 1.3 million cats) are adopted to new families. We'd love to see adoption rates continue to rise and euthanize numbers decline. Thank you for your consideration in adopting some love! Now go celebrate today!