Posted by Michelle, Founder of Paws pet boutique on 18th Nov 2020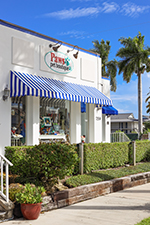 It's no surprise how we met Ginger with Wave Naples...dogs seem to know how to make the right connections! When Ginger shared how her rescue dog Oakley inspires her and changed her life for the better, we knew she'd understand what our pet-loving Paws community is all about. We enjoy working with other small businesses, so it seemed natural to partner with Wave Naples to introduce Paws pet boutique's new downtown Naples location. Their boutique marketing company penned Paws press release below and captured photos that share a taste of Paws pet boutique...
Naples Locals' Favorite Pet Boutique Celebrates New Downtown Location

Paws Pet Boutique relocates to waterfront location after building a strong following in the community.
Naples, FL: Paws Pet Boutique celebrates a new store location in the heart of Olde Naples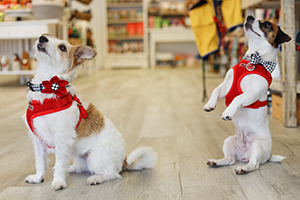 alongside the dog-friendly Naples Dock at Crayton Cove. Known for providing the Naples community with specialty pet toys, treats and accessories, Paws welcomes parents to explore everything the new store has to offer. From an adorable "Chewy Vuitton" toy purse to a hand-baked birthday cake treat for pets, there's something at Paws Pet Boutique to celebrate any occasion in your furry friend's life.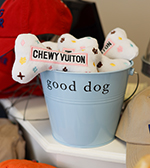 In 2019, owners Michelle and Larry Kownacki brought the Paws concept from Annapolis, MD, to Naples, opening a brick-and-mortar store off of Vanderbilt Beach Road. After 20 years of experience building and running the successful Annapolis storefront, creating a loyal following of Naples' pet-parents within a year of opening was only natural. Since opening the Naples location, the pair have built genuine connections with the community (both people and pets!) to create a brand that is entirely authentic.
The pair has also created a strong presence on social media, driving e-commerce sales and foot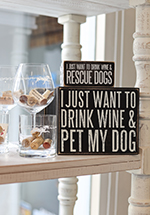 traffic through platforms like Instagram by posting pictures of happy canine customers enjoying a new treat, toy or accessory. This ability to adapt and collaborate has proved a success, garnering thousands of social media followers for the store. Be sure to follow along
@pawspetboutique to see latest product arrivals and snapshots from adorable clients (including Michelle and Larry's own pups).
"Our clients are a part of our family at Paws," says Larry. "We become familiar with the dogs, too, when they come to visit. We learn about the pets, what products they enjoy, what their pet-parents might like to see in the store, as well as get a snapshot of what the community is looking for."
"We thrive on building strong ties with the community, not just to support Paws, but to enhance the overall pet community," adds Michelle.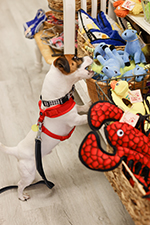 Paws Pet Boutique's new location is ideal for dog owners looking to stroll along the historic Naples City Dock or stop into neighboring pet-friendly restaurants for a bite to eat. Pets are always welcome in-store and are greeted with a complimentary treat on every visit. Michelle and Larry's hand-picked curation of items adds to the boutique experience, and the pair is just as dedicated to getting to know the pets as they are the owners. The Paws experience is centered around celebrating furry friends and all the joy they bring in a unique and personalized way.
To celebrate both the new store location and Small Business Saturday, Paws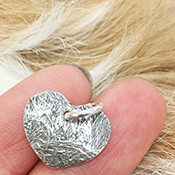 is set to host a socially-distanced FURever Charm Day , a chance for pet owners to create a keepsake silver charm to celebrate a special bond with beloved pets. Jeweler and animal lover Tracy Menz has teamed up with Paws to create the concept for Paws FURever Charm Day, and will assist in capturing your pet's nose print or fur texture in a special, non-toxic clay that can then be used to create a unique silver charm. The process takes minutes, and results in the owner's choice of a nose print charm or a fur-textured heart charm that will be cherished forever.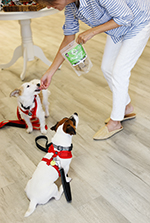 The event will take place Saturday, November 28th . Appointments will be scheduled to ensure comfortable spacing for people and pets and can be made by contacting Paws at
239-631-8122. The boutique will continue to celebrate the new location with fun and festive happenings throughout the month of November and the holiday season.
Thanks Wave Naples! We look forward to being part of the downtown Naples community and welcoming locals and tourists to Paws new pet boutique shop by the City Dock. Hope to see you soon!
Cheers, the Crew at Paws