Posted by Michelle, Founder of Paws pet boutique on 17th Aug 2020
Down by the sea, that's where we'll be! Walk, bike ride, drive or take your boat to Paws pet boutique's new downtown Naples, Florida shop opening September 2020.
Steps from the water, we loved having our pet boutique nestled in the heart of historic Annapolis, Maryland for almost 20 years. There's something comfortable about being in an old, waterfront neighborhood. We're excited to share Paws pet boutique has new digs downtown Naples (coming soon), surrounded by locally-owned, dog-friendly restaurants and shops. Seeing the Naples City Dock from Paws front window isn't bad either! Join us in embracing a lifestyle that includes walking, biking, shopping and dining alfresco with pups. Let's explore all the ways dogs love Naples!
Paws continues to offer an amazing collection of unique dog collars, dog cakes/bakery treats, organic catnip toys and hand-selected goods for you - including handmade dog mugs, silver jewelry, chainsaw-carved wooden dogs, apparel and fun dog and cat artwork. As a locally owned and operated small business, our focus has always been on making our clients' experience extraordinary (that includes those with more than 2 feet!) and offering reasonably priced pet goods that brighten the day. Dogs are always welcomed with fresh water and a complimentary treat.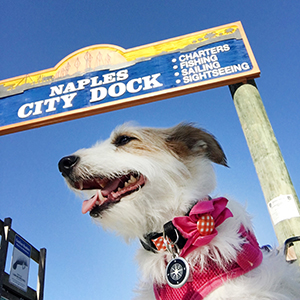 We love our neighbors in Crayton Cove! Before we moved to Naples Florida, we always made a point to stop in this little neighborhood enclave of local businesses. Now you'll be able to visit Paws pet boutique here and grab a bite to eat at one of the dog-friendly restaurants. Head next door for dinner at Chez Boet, a cozy, chic bistro serving market-inspired French classics. Step across the street to Bleu Provence, for a fine dining experience at this Wine Spectator Grand Award Winning French Restaurant. Looking for lunch or something a little more casual? Head toward the water to Napoli on the Bay Pizza and Italian Deli and enjoy a slice of pizza or salad. Of course right on the water is The Dock Restaurant, serving the community since 1976. There's something for everyone here, whether you're looking for lunch, dinner, happy hour or Sunday brunch - and you can't beat the view! To round out your visit, don't miss Random Acts of Art, a delightfully, interesting shop offering a collection of contemporary American Craft from jewelry, pottery, glass, furniture and unique cards. Everything is hand-selected by the owner, who is happy to provide details on each piece. Lastly, but certainly not least, don't forget to stop in Guess-Fisher Gallery and be inspired by beautiful art. This artist owned gallery features watercolors & oils by Phil Fisher, an internationally recognized artist residing & painting in Naples for over 41 years, and fine art batiks by Natalie Guess. Yes, all these businesses are dog-friendly. Bring your well-behaved pooch and make it into an outing. We can't wait to open in September 2020!
Look forward to seeing you! If you're on Third Street at Tommy Bahamas, simply walk out the door and keep walking straight down 12th Avenue South. Paws pet boutique is on the left before you reach Naples City Dock. Our address is 759 12th Avenue South. Parking is available in front of Paws, as well as in a private lot behind the building. Give us a ring at 239-631-8122, if we can assist or answer any questions.
We are following CDC guidelines, thoroughly cleaning and offering hand-sanitizer at the door. As always, we offer curb-side pick-up and shipping options. If you prefer shopping online or can't stop by, enjoy surfing www.pawspetboutique.com with pick-up and shipping options at checkout. Make today count and make a tail wag!
With gratitude,
Your Paws Crew