Posted by Michelle founder of the dog boutique, Paws pet boutique in Annapolis, MD on 23rd May 2018

Of course bow tie collars make dogs look irresistibly dapper and a floral pink collar can make a bold girly statement! Unique dog collars are a fun way to share a little personality, but it's super important the collar you select is also comfortable and functional.
Here are tips on how to find the perfect dog collar.
THE FIT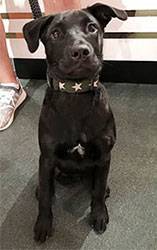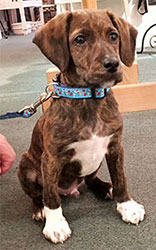 Your pup's dog collar should fit snug but not too tight. If it's too loose you risk the chance of it getting caught on something.
How to measure for a dog collar:
Place a measuring tape in the center of your dog's neck between the chin and shoulders. Snug the tape so it cannot slip over your pup's head. If you can comfortably slip 2 fingers between the measuring tape (or collar) and your dog, that's the perfect fit! If you don't have a flexible measuring tape, use a string and measure it after you have the right size.
Determining the width of the collar is somewhat a matter of preference as well as taking into account neck length and body build. You'll find collars in 1/2" to 2+" widths on the market.
Bran, a growing puppy shown in the image above, is wearing a 3/4" wide buoy dog collar and Charlie is wearing a 1" wide star collar .
While there's quite a bit of overlap due to varying dog builds and neck lengths, here's the general weight guideline we use at our dog boutique to start the decision making process:
1/2" wide collar

for pups under 10 lbs

5/8" wide

for dogs 8 to 20 lbs.

3/4" wide

for dogs 10 to 45 lbs.

1" wide

for dogs 16 lbs. and up

1 1/4" wide

for dogs 25 lbs and up

2+" wide

for dogs 75 lbs and up
Ideally the collar should not be too bulky so your dog can move and sleep comfortably. If your dog doesn't wear a harness for walking and you are deciding between 2 widths, choose the wider option. More surface contact with your dog's neck when pressure is applied is better. Often small collars are available in 2 widths where the dog's build plays a more significant role in the decision.
If you're interested in finding the right dog harness for walking or training your pup, click here for more details on the difference between dog harnesses.
THE FUNCTION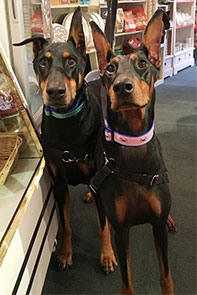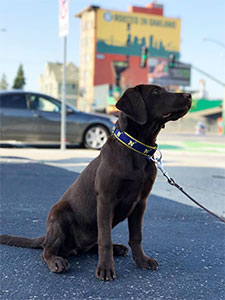 Collars close with a quick release buckle, standard peg with holes or a slip style closure. Here's the differences...
Quick release buckle collars secure when you press the two sides together and release when you simultaneously press the two outside tabs. The benefit of this style is that the collar can be precisely adjusted to fit your dog's neck as well as the ability to remove and secure collar easily when desired. Make sure the buckle is durable with a high pull strength like the ones carried at Paws pet boutique. Additionally, never use a cat collar to walk your dog as the buckles on a kitty collar are designed to open when tugged.
Dobermans, Panzer and Cece, are wearing 1/1/4" wide quick release buckle crab collars, as well as Halsey who is wearing a Navy collar.
Buckle style collars feature a peg with pre-determined holes and function like a belt. Sizing is limited to the available holes, so make sure the collar fits securely within holes available. Ideally the excess collar should fit securely under a strap or ring on the collar. Very secure.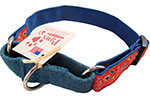 Martingale collars or a soft-choke collar, feature an additional loop that is added to the collar. When a leash is attached to the ring secured to this loop, it slides to tighten the collar around the dog's neck. Also known as a "Greyhound" collar, these collars snug up to a point and then stop. This style is very effective for dogs who have necks bigger than their head because the sliding loop ensures the collars doesn't slip off the dog's head! Martingales must be sized each time they are placed over a dog's head and should not be left on when unsupervised. Some find this limited choke collar helpful when training a dog to heel on a leash.
Slip or choke collars feature 2 rings, one for leash attachment and one that slides along the collar and tightens when tugged. Hold the collar in the shape of the letter "P" when placing over your dog's neck. This is a walking collar that some like to use for control and training. Never leave your dog unattended while wearing a choke collar and use it responsibly. We do not recommend using a slip collar on dogs under 6 months. Our preference is a front-ring harness if you are seeking control on walks. We find them to be very comfortable and effective.
The ring sewn or linked on the collar should be large enough to allow you to attach your pet ID tag and connect a leash. Look for a solid cast metal ring securely fastened to the collar. Remember, a current ID tag with cell phone number(s) can help your dog find their way back home if they become lost.
Dogs love to have fun, so consider finding a machine washable collar too! Whatever style you select, please never use a chewed or compromised collar for walking your dog... even if it still looks cute.
THE FASHION
Now that you know the basics, have fun selecting from lots of unique dog collar designs that share your dog's personality and/or yours! Some people collect shoes, purses or ties and some people (like us!) have a dog collar obsession. From coastal sea creatures and boats to checked dog bow ties , there are so many creative designs from which to choose. We always recommend finding one that celebrates the bond and love you have for your best friend. Dogs enrich life so enjoy the moments together. Life is too short not to wear the right collar.