Posted by Michelle founder of the dog boutique, Paws pet boutique in Annapolis, MD on 10th May 2018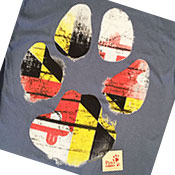 A vibrant combination of red, gold, black and white makes a bold statement on Maryland's flag. The colorful design looks great on anything, which is why people love Maryland flag merchandise for themselves and their pets - even if they've never visited Maryland!
What's the meaning behind the design, you ask? The flag contains the family crest of the Calvert family as well as the Crossland family. The state of Maryland was founded as an English colony back in 1634 by Cecil Calvert, the second Lord Baltimore. The black and Gold designs belong to the Calvert family. Crossland was the family of the mother of George Calvert, first Lord Baltimore.The red and white design belongs to the Crossland family.
If you visit Maryland's Capital of Annapolis, you'll understand why it's recognized as one of the top dog-friendly towns in the country. You'll also see lots of people and dogs touting the Maryland flag! Clients of Paws pet boutique have shared how they've met other people with a connection to Maryland when their dog is wearing a Maryland flag collar out of state. How awesome to meet people through a dog collar!
Here's a look at our Top 8 Maryland Flag Dog, Cat and People Items...
1. Maryland Flag Dog Collars and Leashes
2. For the Love of the Chesapeake - Maryland Flag Crab Collars and Leashes
3. Pet Lovers Maryland Flag Paw T-Shirts

4. Maryland Flag Dog Garden Flags
5. Maryland Flag Dog Bandannas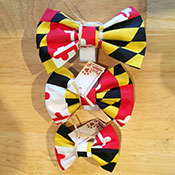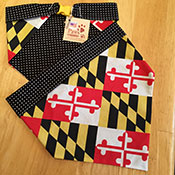 6. For Dapper Dogs and Cats - Maryland Flag Dog Bow Ties
7. Magnets with Maryland Flag Dogs and Cats

8. For a little Maryland Pride, Check out these fun Natty Boh Collars and Old Bay Spice Collars
That's a little taste of Maryland! If you haven't visited Annapolis, you should plan a trip. It's a beautiful historic town on the water that's very walkable and dog-friendly. Plus it has a pretty cool pet boutique (wink, wink). Thanks for reading and letting us share the Maryland spirit with you. Make today count.