Posted by Michelle founder of the dog boutique, Paws pet boutique in Annapolis, MD on 27th Sep 2016
Recently I saw a card that really made me think. It read:
"We will never be the same as we were before this loss, but are ever so much better for having had something so great to lose."
I read it several times so it really sunk in. How true.
It may be a person or a companion animal who provided strength, direction, love, passion, levity, companionship among other things in life. Simply put, they made your life and you better. When you lose someone so special, the hole left behind is deep. Everyone loves and grieves differently, but over time we can come to realize that we were fortunate to be enriched by their presence.
If the bond wasn't so special and strong, the pain of the loss wouldn't be so numbing and sad.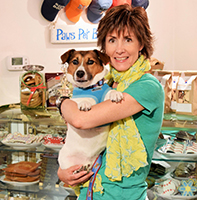 The unexpected loss of my constant companion Jack Russell Ben on Thanksgiving 2015 was devastating and I know I will never be the same. Today I'm trying to learn how I am better for having had him in my life.
I like to think he selected Thanksgiving to teach me my last lesson on thankfulness. As I continue to process the loss today, I also realize what I have gained. This one dog heightened my level of passion to make a positive difference. My involvement with the animal welfare movement increased and allowed me to meet so many amazing people. I became especially active with Animal Legal Defense Fund who rescued Ben along with 300+ other dogs from an unthinkable environment with a hoarder. Thanks to Ben, we made a difference together. He touched many people in his journey through our fundraiser events and in Paws pet boutique as our store dog. Just last month someone stopped in the store asking if Ben was there so they could visit with him. He was one-of-a-kind and I truly was lucky to have him in my life as a soulmate for the time I did. There is no doubt he made me a better person.
With a loss you find the good in people. During a difficult time your senses are heightened and it becomes clear the people and things that are truly important to you. Thanks to special people in my life Ben's legacy will live on with Ben's Memorial Fund through Animal Legal Defense Fund. Donations support prosecution of animal cruelty and fighting puppy mills. Ben made a difference in my life and will continue to do so in many other lives as his legacy continues. Today I am more grateful for the people in my life thanks to Ben.
Paws pet boutique continues to hold events to support ALDF, and now Ben's Memorial Fund. September 30, 2016 we partner with the Loews Annapolis Hotel to host a dog-friendly happy hour, Canines & Cocktails for a Cause. Generous businesses have donated prizes for the raffle and auction that support Ben's Fund. If you're reading this and the event hasn't happened yet, we hope you can join us at 5:30 pm.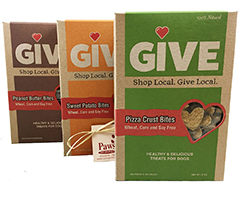 Additionally, Paws pet boutique donates $1 from every box of "Give" dog treats to Ben's Fund. Choose from 3 yummy flavors. The treats make a unique and perfect dog gift too. They are of course heart-shaped.
As I continue to work through my loss, I can see I am better for having the opportunity to have one of the funniest, engaging and loving Jack Russells in my life for 10 short years. If you are feeling the loss of a loved one, I hope you reach out to your family and friends and take the time to realize how you are better for having your lost loved one in your life for the time you did. Loss is hard. My hope is that by sharing this I help someone see a brighter side.
"We will never be the same as we were before this loss, but are ever so much better for having had something so great to lose."
Make time to find why you are better and make today count.