Posted by Michelle and Larry, Owners of Paws pet boutique and Family to Beloved Ben on 29th Nov 2015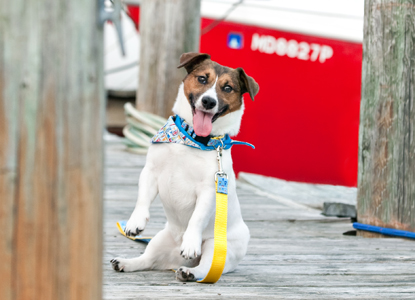 If we're lucky once in a lifetime we'll have an opportunity to live with a soul mate dog. Ben our beloved Jack Russell was just that dog.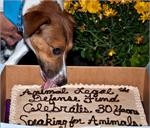 He had existed with 300+ other dogs until Animal Legal Defense Fund took the hoarder to court and eventually won their freedom for a life of love. We saw his photo and knew we wanted to foster and adopt him once the case was won. It was 2006 when he arrived at Paws pet boutique thanks to an animal-lover helping transport dogs from Sanford, NC. Scared stiff with big innocent eyes and yellow fur from living in urine, he was beautiful to us.
Amazing what love can do. Over time he became less timid and actually enjoyed meeting people ready to give him a treat or a belly rub. He always remained tentative until he got to know you, but once he did he never forgot you. Greeting guests in our store especially other dogs became his specialty...along with sitting by the treat jar. Gentle Ben was a lovable, funny and memorable fellow that turned out to be cute as a button with gorgeous white fur and perky ears. A friend summed him up perfectly describing him as a little dapper man in a Jack Russell suit.
He was bigger than life and was the master at seizing the moments. From jumping on the bed first thing in the morning to throw his favorite egg balls in the air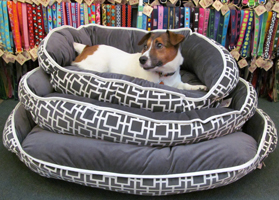 to barking in the air to let the world know he was happy to rolling on his back in the car every time he jumped in, Ben loved life. Never a complainer, he would even wait in line behind the cat for the water bowl. There was no question though that his Mom was his soul mate and he always looked to her for guidance and reassurance.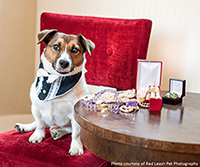 Ben was the inspiration for us. We were so moved by him that we started fundraisers in his name sake to benefit the group that rescued him. From 5 Ben's Cruises to Ben's Waterfront Bash to Ben's Dazzling Online Auction and many Ben's Raffles, thousands of dollars were raised to help other animals and bring awareness to this important charity. Ben learned to love being the center of attention and having his photo taken. He knew when to turn it on. His last social appearance was November 18 when a group of government officials came to the store to present a certificate of recognition for the store. He was looking dapper as ever, wearing a red tux bandanna and doing his part socializing better than any other dog could. We would love to do that day all over again.
Paws pet boutique would not be what it is today without Ben. There will never be another Ben.
Ben passed away on Thanksgiving 2015 from unexpected gallbladder surgery. He will always be missed deeply by his family. A friend pondered why it was on Thanksgiving that he passed away and shared "Maybe it's because of the huge positive impact that his life had on so many people and animals in this world. Maybe to remind us to give thanks for the special people and animals in our lives and the wonderful connections that we share with them." We like to think this was the reason. Almost ten years with him wasn't enough and the ending was so unexpected. He will always be in our hearts and we can't wait to be reunited with him in another life. Ben rescued us.