Posted by Michelle, founder of PawsPetBoutique.com on 18th Mar 2015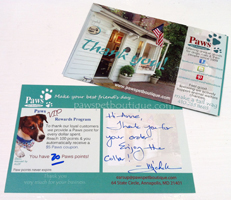 We love dogs, cats and even their people! Over the last 15 or so years we've met so many amazing individuals and animals that have helped Paws stay on the map. Paws pet boutique's VIP Rewards Program is one small way of saying "Thank you". We are grateful.
In addition to giving back to animal charities, it only makes sense to give back to loyal clients. Paws Rewards Program is free to join and hassle free. Simply said, for every dollar you spend you receive a Paws point. Points are never reset to zero and when you reach 100 points you receive a $5 'thank you' coupon to use on your next purchase.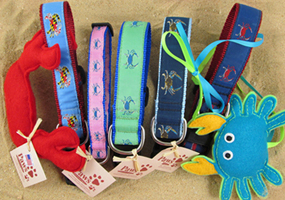 It doesn't matter if you shop online or in the Annapolis storefront, the points accumulate under your name. So if you are looking for say crab dog collars or other unique dog collars, each time you buy a dog collar you also receive Paws points. It's like getting 5% back over time. Not to worry if you lose your coupon. Simply ask us to look it up for you and we are happy to apply your credit. Plus, if you receive Paws coupons in-store and want to use them for online shopping just let us know. We'll gladly create a coupon code for your next purchase on Paws website. Easy!
When we pack and ship your online orders we always include a note with the number of Paws points you have or the coupon code to use for your $5 coupon. If your order online is over $100, not only will you receive a $5 coupon but we'll ship it to you for free. If you are local to Annapolis, you can shop www.pawspetboutique.com and select pick-up at the store at no extra charge. We'll let you know when your order is ready for pick-up and run it out curb-side so you don't even have to park!

We want our customers' experiences to be memorable and splendidly positive. If you have a suggestion on how to improve our service or have products you recommend, please don't hesitate to reach out to us. Call us at 410-263-8683 or email us at earsup@pawspetboutique.com,
Thanks to all our clients who have helped make this small business dream possible for the last 16 years!